MLK Day Closure
The Board office is closed January 21 for Martin Luther King Day. Online Services remain open.
2018 Licenses and Permits Expired on December 31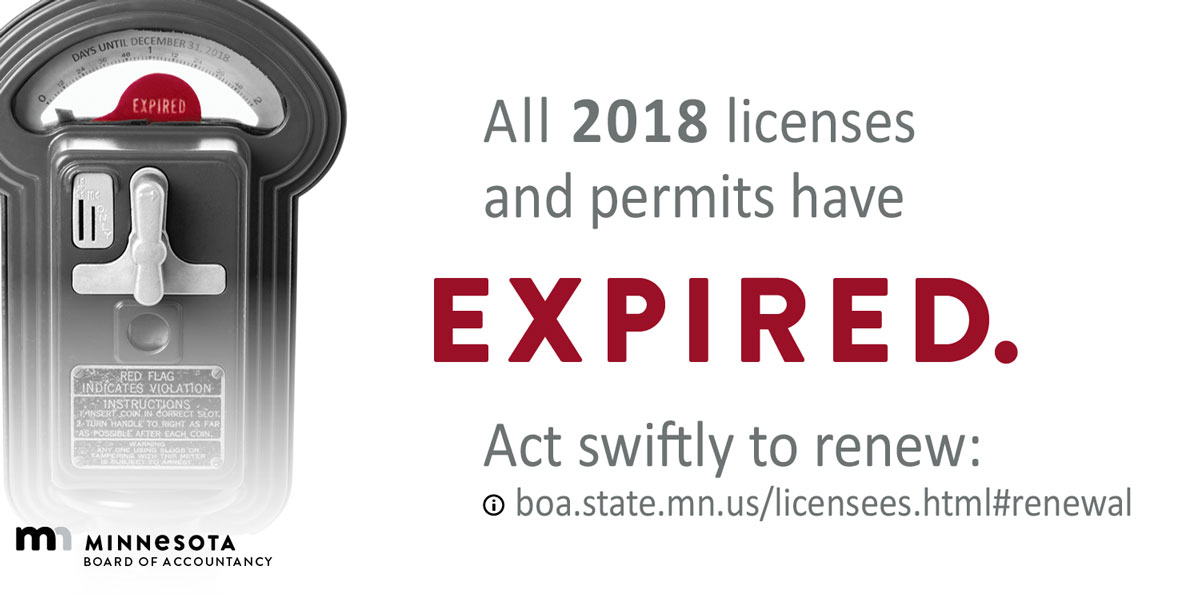 All licenses, registrations and permits expire December 31, 2018. EVERYONE must renew, even those recently licensed. For those with CPE reporting requirements, that reporting must be submitted prior to or along with your renewal (or status change request).
NOTE: There is no grace period for unlicensed practice/holding out.
Inactives renewing as inactive: Renew through Online Services.
Everyone else: Use the appropriate paper forms. When submitting a paper form, payment must be by check (no cash, bill pay or credit card).
Answers to questions concerning renewal can be found on the Frequently Asked Questions (FAQ) page.
UAA Committee Seeks Comments on Proposed Model Rules for Peer Review Programs
The AICPA/NASBA Uniform Accountancy Act (UAA) Committee has released draft proposed changes to the UAA Model Rules that pertain to peer review (compliance assurance) programs. As the changes are significant, the committee is strongly encouraging Accountancy Boards and other interested parties to review the proposed changes and submit comments to the UAA Committee.
The deadline for submitting comments to the committee is June 30, 2019. You can email your comments in the form of letters to lhaberman@nasba.org.
UAA Draft Model Rules on Peer Review
2019 Executive Committee Elected
At the December 4, 2018, Board members elected the current Executive Committee to their same positions for 2019.
Greg Steiner, CPA, Chair
Sharon Jensen, CPA, Vice Chair
Charles Selcer, CPA, Secretary/Treasurer
Notice of Proposed Rule Changes
The Board is considering rule amendments related the examination and other housekeeping items. For details and how to comment, see the Board's rulemaking page.
Rulemaking
Jensen Elected as NASBA Director at Large
Sharon Jensen, CPA, Board Vice Chair, was elected to serve as a Director at Large for the National Association of State Boards of Accountancy (NASBA), of which the Minnesota Board is a member. NASBA has a total of seven Directors at Large who serve on the Board of Directors. Elections took place at the NASBA Annual Business Meeting.
Previously, Ms. Jensen served as NASBA Central Region Director, Chair of the NASBA/AICPA International Qualifications Appraisal Board (IQAB), and member of NASBA's Legislative Support and Global Strategies Committees.
Directors at Large are elected for a three-year term and may serve a maximum of two terms. They attend NASBA Board meetings, held four times a year, and the regional meetings for their area. They chair a committee of the Board of Directors.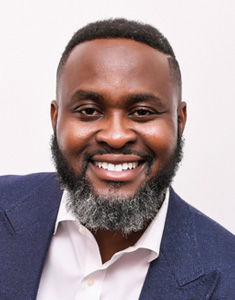 Sowah Honored for Volunteer Work
Godson Sowah, Board Member and Examination and Credentialing Committee Chair, was recently honored by the Minnesota Society of CPAs (MNCPA). He was given a Public Service Award for his work as board president of Avenues for the Homeless Youth, and as program director for the Accounting Career Awareness Program.
Sowah was presented the award at MNCPA's Celebrate CPAs Award Luncheon.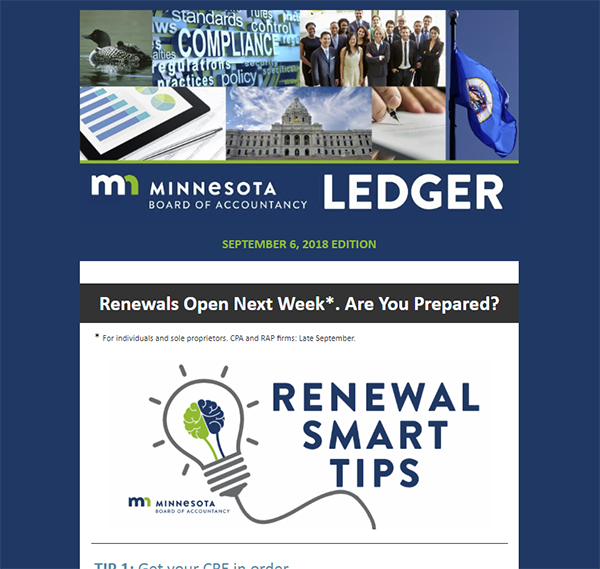 Get notices by email!
If you haven't already signed up for the Board's email communications (The Ledger eNews), do it today. No fear of email clutter: The Board only emails when significant Board-related news occurs or deadlines relevant to your licensure approach—such as renewals.
Subscribe to The Ledger
Continuing Professional Education Reporting Fee Chart
Either the left or the right fee column for any given year will apply. If you are noncompliant in more than one year; you owe the applicable fee for each year.


Examples (rates valid only for January 2019):
• Failed to report CPE on time in 2016 and 2017 but earned it both years in the proper timeframe: Total fee is $1000.
• Failed to complete CPE on time for 2018 and reported late for 2017: Total fee is $550.
• Reported late for 2018 but earned CPE in proper timeframe: Total fee is $50.
• Reported late for 2016 and 2017 and failed to complete on time in 2018: Total fee is $1200.

Reported CPE late but earned the CPE during the proper timeframe, use these columns:
Failed to complete CPE in proper timeframe (and so also did not report it on time), use these columns:
Failed to report CPE by:
Fee is**:
Submit:
Failed to complete CPE by*:
Fee is**:
12/31/2018
$50
Certificates of completion for only those hours earned after 6/30/2018* and required fees**
06/30/18
$200
12/31/2017
$350
Certificates of completion for only those hours earned after 6/30/2017* and required fees**
06/30/17
$500
12/31/16
$650
Certificates of completion for only those hours earned after 6/30/2016* and required fees**
06/30/16
$800


* If you completed CPE hours after the June 30th deadline(s), you must include copies of the certificates of completion for those hours.
**The above-referenced fees reflect the CPE rates if submitted/postmarked by JANUARY 2019 [MN Rule 1105.3000 (E)(2018)]. License fees and late renewal fees are not included. See the appropriate renewal form and status for those costs.


For renewals/CPE prior to these dates, please see Reinstatement.