Office Closed May 30

The Board office will be close Monday, May 30 in observance of Memorial Day.
Get Renewed for 2022 ASAP!
All licenses and permits dated 12/31/2021 have expired.

This means, if you have not renewed YOU NO LONGER HOLD A LICENSE AND CANNOT PRACTICE OR HOLD OUT AS A CPA.

You must be in compliance with Minnesota rules and statutes to hold out or practice.
To renew for 2022, use the appropriate PDF form available in the "Forms" section of the website. Complete and mail in with your check or money order. (Only Inactive status renewing as Inactive can still use Online Services.)
If you wish to go Exempt or Retire, or are seeking Reactivation or Reinstatement, see the separate (not Renewal) forms for those statuses/processes in the "Forms" section of the website.
All late renewals or status changes now include a $50 delinquency fee, in addition to any license/permit fee.
Those earning and/or submitting CPE late also have CPE late fees. These accrue monthly, based on the postmarked date the Board receives your certificates of completion and fee. See the CPE chart below for details.
A special reminder to firm owners that 100% of Minnesota-licensed owners must be renewed by March 1, 2022, or the 2022 permit is REVOKED.
License Cards for Current CPA Licensees and SP Firms Now Available Through Online Services
As licensees and permit holders were notified last year, the Board is no longer mailing license or permit cards upon renewal. Current Active and Inactive status licensees may instead log into Online Services and print a PDF version of their license card. Sole proprietors whose firm permit number is the same as their individual license number can also print a copy of their firm permit.
Log in to Online Services, then select the "License Card" tab (see image). If a card is available, you will see a "print" option. Note that if you have only just recently renewed or become licensed, the card may not be available (or may not show your new expiration date) for 3-5 business days.
When you select "print" a PDF is generated. Where the file saves or how it displays will depend upon the browser/browser settings you use. Lines on the 8 1/2 x 11 printout indicate where to cut to create the traditional oversized and wallet-sized cards.
No license/permit cards are available for CPA firms or RAPs/RAP firms. To verify your status and expiration, use Find a CPA (individuals) and Find a CPA Firm (CPA and RAP firms).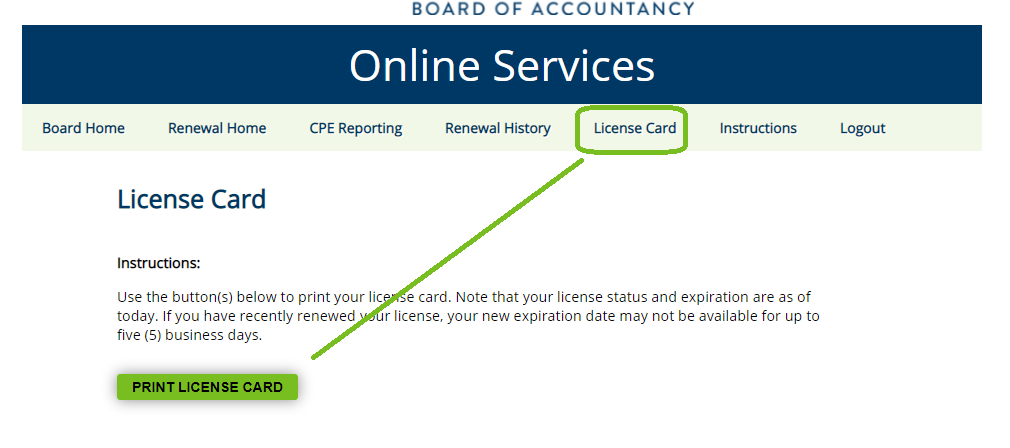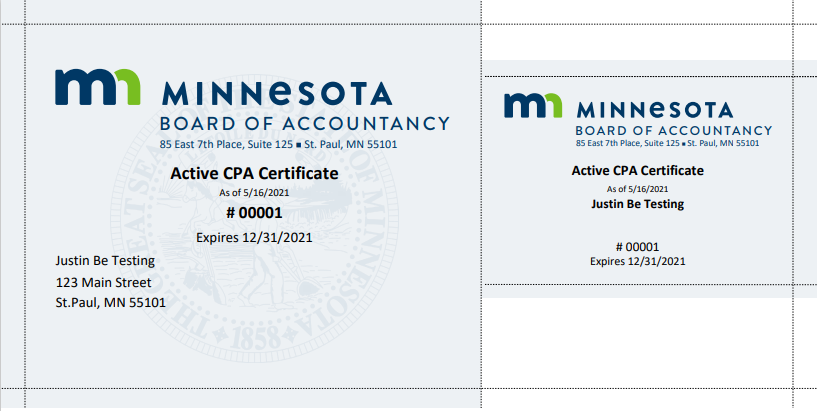 New Executive Committee Elected
Each December the full Board elects a new Executive Committee. At the meeting on December 9, the Board elected Charles Selcer, CPA; Charles McElroy, CPA; and Godson Sowah, CPA; as Board Chair, Vice Chair, and Secretary/Treasurer respectively.
Apply Now to Serve on the Board
Board members are appointed by the Governor of Minnesota to four-year terms. Board members must be a resident of Minnesota at the time of and throughout their appointment.
The following positions will be up for appointment with applications being accepted now: Certified Public Accountant (1).
See instructions on how to apply.
Beware of Email Phishing

The Minnesota Board has learned that a phishing message claiming to be from the Minnesota Board regarding "licensee fee changes" has been circulating. The Board sent no such message (and there are no fee increases). If received, follow the best practices at your firm for dealing with suspicious emails.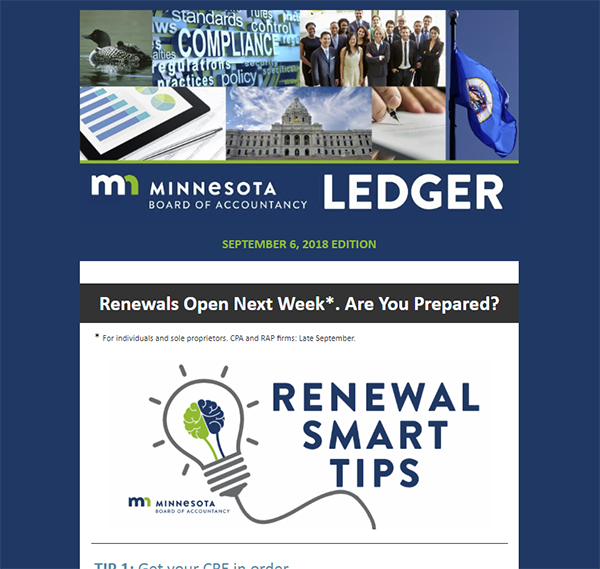 Get notices by email!
If you haven't already signed up for the Board's email communications (The Ledger eNews), do it today. No fear of email clutter: The Board only emails when significant Board-related news occurs or deadlines relevant to your licensure approach—such as renewals.
Subscribe to The Ledger
Continuing Professional Education Reporting Fee Chart
Either the left or the right fee column for any given year will apply. If you are noncompliant in more than one year; you owe the applicable fee for each year.


Examples (rates valid only for May 2022):
• Failed to complete CPE on time for 2021 renewal: Total: $300.
• Reported late for 2021 renewal but earned CPE in proper timeframe: Total: $150.
• Failed to complete CPE on time for 2022 renewal and reported late for 2021: Total fee is $450.
• Reported late for 2022 and 2021 renewals but earned CPE in proper timeframe: Total fee is $600.


Reported CPE late but earned the CPE during the proper timeframe, use these columns:
Failed to complete CPE in proper timeframe (and so also did not report it on time), use these columns:
Failed to report CPE* by:
Fee is***:
Submit:
Failed to complete CPE by**:
Fee is***:
12/31/21
$150
Certificates of completion for only those hours earned after 6/30/2021* and required fees**
06/30/21
$300
12/31/20
$450
Certificates of completion for only those hours earned after 9/30/20201* and required fees**
09/30/201
$500
12/31/19
$750
Certificates of completion for only those hours earned after 6/30/2019* and required fees**
06/30/19
$900

1 If you elected to claim the one-time FY20 CPE extension when you renewed for 2021.

* If claiming exception from CPE reporting under MN Rule 3500.3.D, you must claim the exception by the deadline or be subject to the same fees as those late reporting hours.

** If you completed CPE hours after the earning deadline(s), you must include copies of the certificates of completion for those hours.